China Business Knowledge @ CUHK Luncheon Series: The Impact of Technology on Consumer Behavior
Prof. Shen Hao of CUHK Business School and CUHK alumnus Mr. Adrian Tam talk about the impact of technology during the third talk of China Business Knowledge @ CUHK Luncheon Series
By China Business Knowledge @ CUHK
New technology has provided us with much convenience in our daily lives. However, have we thought about how our behavior has also been shaped by today's technologies? And how should industries respond to the ever-changing technological development?
To explore the answers to these questions, the third talk of China Business Knowledge @ CUHK Luncheon Series was held at CUHK Business School Town Centre on 30 November, 2017. Under the title "The Impact of Technology on Consumer Behavior", Prof. Shen Hao from CUHK Business School and Mr. Adrian Tam from Octopus Holding Limited shared their insights and opinions at the seminar.
Based on his own research, Prof. Shen Hao, Associate professor of the Department of Marketing at CUHK Business School, discussed how the use of different interfaces may influence the way consumers think about a product and react toward it. For example, offering reviews to a brand through voice recording rather than typing lead customers to feel more connected to that brand.
What's more, his research found that comparing with clicking the mouse on the desktop, touching the screen would facilitate consumers' mental interaction with the product and makes consumers choose hedonic over utilitarian food items.
"This is called 'Direct-Touch' effect. The use of tablets makes people more emotional impulsive, and less self-controlled," he pointed out.
Prof. Shen also shared another piece of his current research on virtual reality (VR) where customers are often led to respond to his or her own experience without paying much attention to other people around. As such, he asked an interesting question: Will VR isolate us and make us lonely?
In conclusion, Prof. Shen commented that marketers should pay attention to the impact of digital technology on our consumer behavior.
When it comes to how digital technology has impacted on the business of Octopus, Mr. Adrian Tam, Octopus' sales and marketing general manager, introduced that as e-payment market is increasingly growing, Octopus has just launched its OR code service in the same afternoon after the talk. So now the company can offer two payment modes to Hong Kong people: its traditional "swipe-and-go" cards, and one using QR codes.
According to him, Hong Kong's e-payment market has been opened up since last year when the Hong Kong Monetary Authority began issuing licenses to operate such services. Facing increasingly tough competition from those e-payment giants, such as Alipay and Apple pay, "Octopus is not fencing any competition. We always welcome fair competition," said Mr. Tam."Since our launch in September 1997, we've issued a total of 34 million Octopus cards to the Hong Kong population," said Mr. Tam. "Until today, we're still offering customers a reliable, secure and fast system, that is our huge social responsibility and we make sure we're doing things right," he added.
The talk attracted around 50 participants from the business community, academia and the media, creating a highly interactive forum. The participants expressed their appreciation on the wealth of knowledge and lively presentations offered by the two speakers.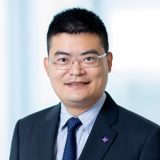 Shen, Hao(沈浩)
Professor
Director, MSc Programme in Marketing