China Business Knowledge @ CUHK Luncheon Series: Why Team Diversity Matters and How to Manage it
Is diversity the same between East and West? How should we manage a diverse team and what organizational structure is proved to work with millennials?
By China Business Knowledge @ CUHK
Employees are different in many ways: gender, age, functional background, personality, and so on. And as the world is getting smaller and smaller, talents with different backgrounds have more opportunities to work together. "Diversity is now inevitable at work," shared Prof. Dora Lau, Associate Professor of the Department of Management at CUHK Business School, during the fourth talk of China Business Knowledge @ CUHK Luncheon Series on March 22, 2018.
Prof. Lau pointed out that comparing to the West, companies in Hong Kong and the mainland pay less attention to the subject of diversity; they also view diversity attributes quite differently.
In her study, she finds that diversity is prevalent in China and 73 percent of the employees she interviewed are aware of diversity. As for attributes, personality, age, gender, and education are some of the main diversity attributes in China. However there are some distinct characteristics as well.
"One of the attributes I find very different from the West while talking to these Chinese companies is provincial diversity. Shanghainese employees will see you as different if you're not from Shanghai but from Beijing, for example," she said.
"Diversity exists everywhere. Each team member is similar to others in some ways while differs from others in other ways. So we need to learn to embrace it. If you are able to manage diversity, it can give you a competitive advantage."
Education is also looked at from a different angle. "Whether you have a local or overseas degree is an important diversity attribute in China too," she added.
Previous research, mainly based on the West, has told us that the more diverse a team, the more creative a company will be. However, is diversity always good for a company?
Prof. Lau went on to say that diversity would inevitably create some challenges for a company.
"Communication becomes more difficult for those who need to work with people not only from different ethnical backgrounds, but also from different functional backgrounds. Just imagine putting an engineer and a designer together in a project, it may not be that easy as they use very different 'languages'. However, diversity is still a positive driving force which brings different ideas and enhance creativity. The key is how to manage it."
So, how can we manage diversity? To begin with, a helpful attitude is to embrace it rather than avoid it.
"Diversity exists everywhere. Team members are similar to each other in some ways while different from each other in other ways. We need to learn to embrace our differences. If you are able to manage diversity, it will give you a competitive advantage," said Prof. Lau.
In this regard, Prof. Lau suggested that companies should train managers and employees to be aware of diversity issues and educate their teams to appreciate differences among individuals. She also advised that management should be more aware of 'faultines' which would split teams into 'in-groups' and 'out-groups', making it hard for teams to work for the same goals.
Following Prof. Lau's sharing, CUHK Alumnus Mr. Alan Yip, Chairman and CEO of Guru Online (Holdings) Limited, a publicly listed internet company in Hong Kong, shared his smart tips in managing a company with the majority of employees being milliennials.
Nearly 90 percent of his employees are post-80s and post-90s, whose characteristics are very different from the older generation. And we need to look no further than the games they play.
"These young people grew up mostly playing online games depicting them as heros and emperors. They care about fun, they like surprises and they cannot wait," he said.
To adapt to his young workforce, he deploys a new management approach to inspire their talents and enhance their productivity. For example, the office has been designed differently from a traditional workplace – there is ample open space, comfortable sitting and living areas, and lots of fun elements such as a slide in a library, walls that the team can draw on freely, and outdoors space for exercise.
"Our organizational structure reflects the characteristic of young people and our belief – everybody can be a boss."
To cater for the mentality of young people who need instant gratification, he also employs a different bonus system. "Rather than giving out bonuses once a year, we divide bonuses and give them out in each quarter."
As for organizational structure, he willingly abandons the typical hierarchical structure with the top management above all staff and uses the Amoeba management structure, putting employees in subteams led by Amoeba leaders, thus allowing them to take responsibilities and climb the career ladder more efficiently.
"Our organizational structure reflects the characteristic of young people and our belief – everybody can be a boss," Mr. Yip said.
The luncheon talk attracted over 50 participants from the business community, CUHK alumni and the media, who all contributed to a highly interactive forum.
Stay tuned for the upcoming China Business Knowledge @ CUHK Luncheon Series on April 19, 2018, when our speakers will share their insights on China's institutions and how the role of government and policies shape the behavior of market partipants.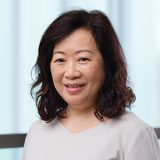 Lau, Dora Chi-sun(劉芷申)
Associate Professor (Teaching)
Director, MSc in Management Programme
Associate Director, Center for Entrepreneurship