Crossing the Succession Barrier Under One Child Policy
In the next few decades, many Chinese family firms will encounter succession issues when the first-generation entrepreneurs retire
By Fang Ying, Senior Writer, China Business Knowledge @ CUHK
It has long been a tradition in China for family businesses to choose a successor within the family. However, the One Child Policy inherently limits the choice of successors and the lack of suitable successors is gradually becoming the norm in many Chinese family firms. What if the only child in a family is not willing to take over the father's business? Would it be more effective for entrepreneurs to pass the top management positions to professional managers, if their offspring prefers not to take over the business?
Kevin Au, an Associate Professor at the Department of Management and Director of Center for Family Business at CUHK Business School, and an expert in family business and entrepreneurship, offers his opinions and suggestions to Chinese family business with Forbes China.
"Hiring professional managers is not a magic bullet and there is no quick fix for family business succession issues," he says. "We should look at it case by case. It could be harmful for entire companies and families if parents force their children to take over the family business. They need to understand the real reasons why second generations are not willing to take over their parents' firms."
According to Prof. Au, in China, most of the first-generation entrepreneurs have prioritized their careers above their families, which led to limited communication with the second generation. At the same time, as the younger generation has been increasingly exposed to the Western culture and values, the gap between the two generations is becoming wider and wider. As such, it's difficult for the second generation to share the same values with their parents and to recognize their achievements, and even more difficult for them to consider taking over the business.
"It takes time for the second generation to learn about their parents' business," Prof. Au says. "Only when they share the same feelings as the first generation towards the family business will they be willing to take up the helm and lead the companies."
He cites the example of Liu Chang, the daughter of Liu Yonghao, ex-chairman of the family-run New Hope Group, a leading agribusiness corporation in China, which manufactures and distributes animal feeds and meat products globally. Liu Chang was appointed the new chairman of the company in 2013. "It took her a while to get to know her father's business. But once she started to learn more about it, she gradually feels a deep attachment to the company," Prof. Au says.
In light of this, Prof. Au advises first-generation entrepreneurs in China to be more patient and communicate more with the second generation, allowing them to have a better understanding of their own careers.
To address the challenging succession issue, another effective way Prof. Au suggests is to create an entrepreneurial platform within the family business. This, he says, can help attract the second generation to work for the family business and ensure the long-term survival of the company as well.
According to Prof. Au, sustaining the entrepreneurial spirit is the key to maintaining the family firms' ownership and management over several generations. Firms are more likely to lose their entrepreneurial capacity when they are mature, so it is critical to create an entrepreneurial platform within families to continue and expand the first generation's entrepreneurship.
"Unlike the first generation, most of the second generation members of family businesses in China are not expected to be entrepreneurs themselves," Prof. Au says. "But for companies' long-term growth, instead of merely taking care of the founder's creation, it's better to give a chance to the second generation to develop new businesses within the family."
Dalian Wanda Group, China's largest commercial property company and the world's largest cinema chain operator that owns AMC Theatres, among other holdings, is a good example. Instead of directly bringing back his son to the company, Wang Jianlin, the chairman of Dalian Wanda, gave money to his son, Wang Sicong, to start his own business — a small private equity fund and a gaming company. "I do not interfere with his companies. Let him do it alone… He'll know how to run a company," the father has said in a media interview.
"Younger generations may make mistakes when developing their own businesses. But during that process, they will learn how to be an entrepreneur. After all, as a future top person of the company, you have to possess the attitude of an entrepreneur, such as taking initiatives and being willing to take risks," comments Prof. Au.
"Overall, successful family business succession in China requires extra efforts in creating a sophisticated plan," Prof. Au concludes. "The process of coming up with such a plan will force family business owners to identify and resolve many issues within the family, which may eventually have a positive impact on the future of family business."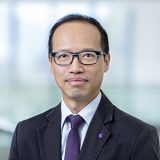 Au, Kevin Yuk-fai(區玉輝)
Associate Professor
Director, Centre for Entrepreneurship
Director, Centre for Family Business