CSR as Our DNA
Are large corporations achieving good profits not socially responsible? At the 10th CUHK MBA CSR Conference, Prof. Frederick Ma Si-hang, Chairman of MTR Corporation Limited offered his insights
By Fang Ying, Senior Writer, China Business Knowledge @ CUHK 
With the theme "CSR as Our DNA", the 10th CUHK MBA CSR Conference, organized by MBA students at Chinese University of Hong Kong (CUHK) Business School, was successfully held at the Hong Kong Convention and Exhibition Center on May 20, 2016.
One of the largest events of its kind in Asia, the conference attracted more than 300 CSR professionals, top executives, SME owners, members of non-governmental organizations, business students as well as professors to attend. Keynote and panel speakers from a wide range of industries gathered together to share their insights and best practices in implementing CSR initiatives.
Since 2007, the student-run CUHK MBA CSR Conference has been gathering CSR professionals from all industries across the region to exchange the latest CSR industry development and knowledge. Recognized by Financial Times in 2012 as Asia's finest non-profit CSR conference, the event has proved to be a great success over the years to encourage MBA students to think globally and to foster coordinated efforts to build a more sustainable world.
CUHK Business School Values CSR
In his welcome speech, Prof. Kalok Chan, Dean of the CUHK Business School and Wei Lun Professor of Finance, said that the conference represented the commitment of the School in promoting the concept and awareness of CSR in the business community.
"CUHK Business School values the importance of CSR and business ethics. As part of the CSR initiatives of the School, this conference offers a remarkable platform to convene business leaders, CSR professionals, policy makers, and scholars in the region to share new insights on emerging issues and discuss the best practices in CSR," said Prof. Chan.
CSR Offers Companies Competitive Advantage
Following Prof. Chan's welcome address was a keynote speech delivered by Prof. Frederick Ma Si-hang, Chairman of MTR Corporation Limited and Honorary Professor of the CUHK Business School.
His keynote speech titled "How Business Sustainability Affects Corporate Strategy and Investment" addressed the issue of business sustainability with an emphasis on how corporate responsibility could be embedded in corporate strategy, sharing several CSR initiatives of MTR Corporation.
Prof. Ma said that since the global financial crisis in 2008, skepticism about the nature and motives of large corporations had risen sharply.
"There is a perception among people that large corporations that achieved good profits are somehow not social responsible," he said.
However, he pointed out that companies could achieve commercial success in ways that created social value for society and that corporate responsibility could offer a competitive advantage bringing positive financial results for companies.
"In the process of providing goods and services that are valued by customers and reaping financial results of these efforts, companies can also create social value for the society," he said.
"Only companies delivering value to customers both in terms of satisfying the immediate demands and with responsible operational behavior can achieve good financial results. And only companies with a sustainable financial model will be able to continue to serve their business goals as well as the needs of the community." – Prof. Frederick Ma
MTR CSR Efforts
Using MTR Corporation as an example, Prof. Ma shared the company's business being providing mass transit for passengers in Hong Kong, an integrated part on sustainable development of the city. A typical train carries around 2,500 passengers which equals to 25 buses or 1,500 private cars, which means less traffic congestion, and more efficient use of land, according to Prof. Ma.
"MTR railway and properties services are closely linked to the lives of people in Hong Kong. I can't image how the city can operate without MTR," he said.
"The corporate responsibility of MTR is therefore about operating safely and responsibly in all aspects of its business, contributing positively to the development of the communities in which we operate and at the same time maintaining sustainable finance model so that we can continue to plow back into upgrading our railway access to serve the community."
"In MTR, we believe that delivering value to our customers is our responsibility to the society, which is also consistent with our shareholders' interests," he said.
Prof. Ma highlighted several CSR initiatives of the MTR Corporation, for example, services that cater for the eldering. The company has adapted its facilities to meet the needs of the growing number of elderly people by installing more than 300 seats at station platforms, as well as adding customer centers with low counters and enlarging the signboards.
"Our aging-friendly initiative is just one of the examples reflecting our commitment to corporate social responsibility," said Prof. Ma.
Another example is the conservation of ancient trees. When constructing the Island Line extension to Western District, the company took great care to protect the trees along the route.
One particular challenge arose on Forbes Road in Kennedy Town, he recalled, where they encountered magnificent tree walls containing 22 Chinese banyans and five Japanese fig trees dated back more than 120 years. Four of the trees are listed by the Hong Kong Government as Old and Valuable Trees.
Under MTR's initial design for the new Kennedy Town Station, the tree wall would have been harmed by the construction of a station exit. After consultation with the local community and government, the company decided to protect the trees by revising its plan by building an alternative station exit on the site of a public swimming pool instead. And to compensate the community, the company built an entirely new swimming pool at a different location at a cost of HK$ 600 million.
"As a result of these efforts, we successfully developed a strong and lasting urban conservation program for the tree walls on Forbes Street," said Prof. Ma.
"Only companies delivering value to customers both in terms of satisfying the immediate demands and with responsible operational behavior can achieve good financial results. And only companies with a sustainable financial model will be able to continue to serve their business goals as well as the needs of the community," he remarked.
CSR Brings Positive Financial Results
According to Prof. Ma, many successful companies in Hong Kong have proven that financial success and social responsibility are not two competing forces in a zero-sum game, but rather, they can be mutually reinforcing. He cited a study conducted by Harvard Business School professors, who compared 90 high sustainability firms with another 90 low sustainability companies in the United States. The result revealed that during a period of 18 years, high sustainability companies have significantly outperformed their counterparts in the stock market as well as in their performance indicators such as return on assets and return on equity.
"The result is clear – being a responsible company pays off," he said.
"So, I would like to urge you to think about ways in which you can align your business activities with the long-term wellbeing of our society and lead your company in building a vibrant economy for all of us after this conference," Prof. Ma concluded.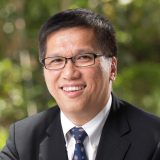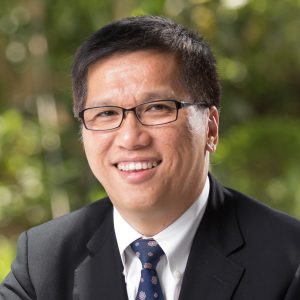 Chan, Kalok(陳家樂)
Wei Lun Professor of Finance
Chairman, Department of Finance