Does Hong Kong Have What It Takes to Become Top Tech Hub?
By China Business Knowledge @ CUHK
Forbes magazine reportedly listed Hong Kong among The World's Top 4 Tech Capitals To Watch (after Silicon Valley and New York) and a compelling prospect as a top tech capital in the near future.
Some are skeptical of the city's potential to be developed into a world-class tech hub due to its lack of talents in sophisticated technologies, venture and angel capital communities and the ultra-expensive housing prices and standard of living.
However, Prof. Kevin Au, Associate Director of the Center of Entrepreneurship at the Chinese University of Hong Kong (CUHK) Business School, regards those comments are culturally biased. He contends that while Hong Kong cannot compete with Silicon Valley or Tel Aviv in terms of high-tech know-how and original patented technologies, it doesn't lack smart-thinking technical talents and business people who make Hong Kong a tech capital in its own rights.
"Hong Kong is good at assimilating and combining technologies and applying them to the local and overseas markets," Prof. Au says. "What makes us competitive is not a question of how high-tech we are, but whether we have the right tech."
He cites the example of the Octopus card, is a cash card used on all forms of transportation in the city, and later extended to become a convenient payment method in many retail outlets. The chip in this card originally came from Japan, he says, but the genius lies in its application. "The broad business application makes it a trailblazer in the world. It is an innovative business model above all else."
Prof. Au cites another example of an innovative business concept, created by entrepreneur Scot Frank who invented appliances for sale in the poorest countries in the world who need low-cost, sustainable solutions to everyday problems. One such appliance is a solar-powered electric generator. Because of the low price, his products are affordable by low-income people, and since his target customer base covers 45 million people in the world, the market potential is virtually limitless.
Prof. Au believes that comparing Hong Kong with Silicon Valley or other tech capitals is inherently unfair as Hong Kong has its own unique conditions, such as the lack of physical space and high rentals. "People have complained that there are no garages here for start-ups to do experiments with their products or ideas. I'd say, Hongkongers can focus on businesses that do not require much space at all. They can also make use of the cheap rentals across the border in Shenzhen, and ship their products anywhere in the world. So physical space is not a constraining factor." He stresses that Hong Kong is a superb logistics hub by any world standard—especially for handsets. "Entrepreneurs should take advantage of the logistics capabilities here. Where else can it be more efficient?"
As for the criticism of Hong Kong not having enough angel investors or venture capitalists, Prof. Au comments that although this is true, the community is growing.
Today, there are several hundred to a thousand angel investors in Hong Kong, with some 60 or so belonging to the Hong Kong Business Angel Network, of which he is a founder and currently a director of the board. Besides angel investors, who are defined as investors who are complete strangers to the enterprises they invest in, there are actually 90,000 to 120,000 people, or three to four percent of the adult population of Hong Kong, who are supporting their friends and families in starting up businesses, he says.
This strong "funding structure" should not be overlooked. And the fact that the Hong Kong government has shifted from its earlier "laissez-faire" policy to playing a supportive role in providing funds for certain industries like design and green industries is a positive thing for start-up entrepreneurs.
What Hong Kong sorely lacks right now, according to Prof. Au, is a sizeable group of technology entrepreneurs like Yet Siu, who have gone all the way to cashing out of their ventures through IPOs and who can now act as mentors for the new generation of entrepreneurs.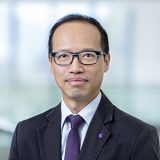 Au, Kevin Yuk-fai(區玉輝)
Associate Professor
Director, Centre for Entrepreneurship
Director, Centre for Family Business