Division in Top Management Team: Bane or Boon?
Would having a bigger division between family and non-family members in the top management team lead to more conflicts or benefit company performance?
By Fang Ying, Senior Writer, China Business Knowledge @ CUHK
The importance of introducing outside professional managers into family businesses is being gradually recognized by company owners. But when it comes to hiring non-family members, they often have a tendency of choosing people who are similar to them. Is this practice beneficial to company performance? A study by CUHK Business School on the top management team composition of Chinese family firms offers some answers.
To achieve high company performance, the controlling members of family firms should refrain from hiring senior executives who are similar to themselves.These family businesses should instead search for professional managers whose gender, age, educational level and functional backgrounds are dissimilar to the family managers. This is the finding of an empirical research conducted by Prof. Dora Lau, associate professor at the Department of Management at the Chinese University of Hong Kong Business School, and Li Weiwen, assistant professor at the Department of Business Administration of Sun Yat-sen University Business School in Guangzhou.
"Usually, people tend to hire someone who has a similar background to themselves so as to enjoy the harmony this generates," says Prof. Li, who obtained his PhD degree at CUHK Business School in 2010. "However, our research suggests that this may not be a good idea for family firms."
The study investigated how the composition of top management teams (TMTs) influences family firm performance. It found that family businesses benefited financially when the "group faultlines" were strong.
What is a group faultline? It refers to "a hypothetical dividing line that may split a group into subgroups based on one or more attributes," according to Prof. Lau, who has studied the subject of "faultline effects" since 1998.
She says family businesses are one of the most prevalent business formats in the world. However, existing research on their TMT compositions had been quite limited in scope. That was why they decided to conduct more research on what kind of team composition would work well for family firm performance.
"Group faultline size is one of the most important factors that influence firm performance," Prof. Li adds. "Our research is one of the first that has examined the potential positive effects of faultlines."
Conflicts Not Necessarily a Bad Thing
Examining 262 family-owned companies listed on the Shanghai and Shenzhen Stock Exchanges over a six year period up to 2010, the study looked into the composition of the TMTs of these companies and measured their firm performance using the matrix of Return on Assets (ROA). It found that the contribution of knowledge and expertise from non-family members had enhanced family firms' performance.
An example of a large faultline is a six-person team, in which four of the members are in their early 50's and have strong operational management background, while the other two are in their late 30's and possess engineering background. On the surface, the big differences within the team could potentially be a source of problems. "Usually, when the subgroups have strong identities of their own, it's more common to find conflicts among the subgroups, and these ongoing conflicts could be harmful for the whole group," Prof. Lau explains.
"If there are a greater number of non-family members, it is easier for these members to voice their expert viewpoints, especially if these viewpoints are different from those of the family members." – Prof. Dora Lau
However, Prof. Li points out that when it comes to family businesses, such negative effects may not apply.
In fact, the study shows that large faultline size is beneficial for the entire organization because of the large differences among subgroups and the similarities within these subgroups.
Why is that the case? Firstly, as family firms grow, family owners may find it necessary to turn to professional managers for help. In this case, professional managers usually bring distinct and non-redundant knowledge and skills to the organization. As such, it is critical that these professional managers possess different experience as well as educational and functional backgrounds from those of family members.
Secondly, if there are a greater number of non-family members, it is easier for these members to voice their expert viewpoints, especially if these viewpoints are different from those of the family members.
"If you are the only person in the subgroup, you might face skepticism or feel intimidated when trying to speak your mind," explains Prof. Lau. "But if there are two or three people in your subgroup, then you will be more confident to share your opinion, because you know someone will back you up."
Prof. Li concludes that a large faultline size is conducive to more elaborate and comprehensive strategic decision making, which is essential for a family business wishing to improve its performance.
Leveraging the Positive Effects
Despite the finding of the positive relationship between faultlines and family firm performance, things may not be totally straightforward. Some factors may dilute the positive effects of faultlines in family firms. For example, when non-family members are treated less favorably than family members, the positive effects of faultlines would become weaker. Consequently, the firm performance would be reduced.
"Do you treat family members and non-family members alike? When it comes to executive compensation, do you pay the non-family members according to their achievements or their status within the firm?" Prof. Lau asks. "We found that when the difference in compensations is big, the positive effects of faultlines in organizations have disappeared altogether."
Unlike other types of organizations, in family firms, group faultlines tend to occur more naturally. At the beginning of a family firms' establishment, family members play key roles in shaping the business organization and normally possess the controlling power. As family firms begin to expand and grow, they require the help of more and more non-family members with different expertise. But there is a general disparity of power between family members and non-family members. Usually, fellow family members are perceived to be more trustworthy and thus get more support. In contrast, non-family members are more likely to be treated by family owners as outsiders.
"The division – faultline – comes naturally in family firms. You can never take it out or erase it," says Prof. Lau. "It's always there. Fortunately, we can find ways to leverage it."
In light of this, for family firms that would like to leverage the positive effects of group faultlines in their TMTs and achieve better performance, Prof. Lau offers the following suggestion: Family firm owners should be aware that if non-family professional managers are not treated fairly, they can always quit. Therefore, they should give them more trust and provide unbiased treatment in return for their commitment and contribution.
"You should make sure non-family members are willing to contribute to your firm 100 percent. To make that happen, you can't sidestep the issue of equality," she concludes.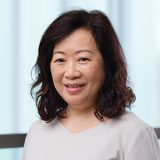 Lau, Dora Chi-sun(劉芷申)
Associate Professor (Teaching)
Director, MSc in Management Programme
Associate Director, Center for Entrepreneurship