Enterprise Software Isn't Everything
How can China's burgeoning industries improve their lead time? Inventory management software helps, but more needs to be done
By Helena Pozniack
Why are some Chinese labels outdone by European brands in product development cycles? How can China's burgeoning retail and manufacturing sectors improve their lead time? The answer lies in a mix of the right technology and management know-how, say researchers from CUHK Business School.
China has enjoyed a continuous boom in overseas orders for its manufactured products over the past three decades. But it can no longer rest on its laurels. As the latest export figures show, China's overseas shipments for the month of February dropped by 18.1 percent from a year ago. The increasingly competitive, faster-moving global business environment coupled with a slowdown in growth momentum both domestically and abroad, presents extra challenges to Chinese manufacturers.
"In the presence of increased competition from both inside and outside of China, many Chinese manufacturers have turned to scientific management approaches and implemented various enterprise-wide systems," says Prof. Zhu Kaijie, Associate Professor at the Department of Decision Sciences and Managerial Economics, who led CUHK's research and published the findings in a paper titled "Inventory Management in China: An Empirical Study" in 2013.
Since Chinese companies first began introducing enterprise-wide packaged software systems in the mid-1980s, researchers have been eager to examine the effectiveness of these systems in the areas of finance and accounting. These systems are large-scale application software packages that support business processes such as inventory management, information flows and customer data analysis in complex organizations. They include such packages as Manufacturing Resources Planning (MRP), Enterprise Resources Planning (ERP) and Supply Chain Management (SCM).
Behind the trend of implementing these enterprise software packages, lies a science that governs the make-up and percentage of stocked goods and materials held by a business for resale. It is a delicate balance of many factors, such as forecasting the future cost of goods and shipping, forecasting demand and balancing the cost of carrying an inventory against opportunity costs — what would have cost the company if it had missed certain sales opportunities. It is an ongoing process that businesses cannot afford to neglect or get wrong.
Besides research in the areas of finance and accounting, however, very little had been done to find out how Chinese companies might have fared at an operational level as a result of implementing inventory management software — until CUHK's researchers came in to fill the gap.
Impact of Inventory Management on Business Performance
Prof. Zhu and his colleague Jun Shan analyzed the inventory performance of nearly 1,300 companies spread across nine industrial sectors, including retail. All companies were listed on China's two stock exchanges in Shanghai and Shenzhen.
Fundamentally, they found what was expected—that on average, firms that have adopted the scientific inventory management approach and implemented enterprise software have seen their inventory levels decline over time, leading to cost savings for the companies.
On the back of that finding, the authors of the paper have recently embarked on further research to find out whether competent inventory performance can have a positive effect on a company's share price. "If inventory performance improves, do stock market investors appreciate that? From our preliminary analysis so far, the answer is yes, says Prof. Zhu.
"We're also looking at the relationship between inventory performance and a firm's profitability." These are positive messages to pass onto industry sectors that are heavily dependent on inventories, he says. "The better operational performance these companies can show, the more they would benefit from investor capital."
Keeping Up with Competitors
While some companies showed more dramatic improvements than others with the advent of electronic inventory management systems, no companies actually reported a worse performance with the new modules.
"The bottom line is that inventory management software helps managers rethink their approach more logically and scientifically," he says. "At least company staff knows there is a platform to store data, and different departments can have access to each other's information. However, beware that we were looking at only listed companies–we can assume that they were very cautious at releasing any negative information."
In the study, retail and manufacturing were shown to have benefitted most from improved inventory performance. But some Chinese clothing retailers still lag painfully behind the performance of Western counterparts, says Prof. Zhu, at least in terms of lead time—the amount of time needed to get a product from its design concept to the shelves. Part of the problem, he says, is that some Chinese fashion brands have not yet adapted to the rapidly changing consumer fashion tastes as a result of globalization and social media.
"In the past we were used to getting our fashion direction from Hong Kong, which would in turn reflect trends in Paris. Now, because of the social media, everything moves much faster than the old days. A long lead time of eight to nine months is no longer acceptable," says Prof. Zhu. Colors and styles rapidly become "last season" while Chinese clothing firms struggle to play catch up.
Management Culture Speaks Volumes
European "fast fashion" brands such as Zara and H&M have dramatically cut their lead time to between two and five weeks, according to Prof. Zhu. Why can't Chinese brands such as sportswear brand Ni Ling, along with manufacturers and suppliers, who are all based within Mainland China, turn fashion around faster?
The answer, says the professor, lies not just in good enterprise software, but critically with management culture. He means that companies in Chinese companies would do much better if their top executives would adapt their strategic decision-making to the faster pace of the market and apply their enterprise systems accordingly. "It's a matter of changing the management mindset," he says. "It has more to do with strategy than infrastructure. Enterprise management packages are useful tools, but it's a matter of using data in an intelligent way that is responsive to the market."
Prof. Zhou gave the example of the Hong Kong-based Esprit clothing company. After having struggled for some years after its founder Michael Ying stepped down, the company has in the past two years hired several management executives from Zara. A change in the management thinking has greatly improved the company's inventory management and its overall performance.
The Changing Landscape
Another rapid development is the burgeoning of online businesses. The online business models have subtly altered how operations management functions, says Prof. Zhu. Where companies might have relied on distributors to bring their products to market, they can now sell directly to customers. As a result, companies' requirements from their inventory systems have also slightly changed. The focus for online retailers has shifted to logistics companies such as DHL, FedEx and China's SF Express. These companies now assume more importance in managing their clients' inventories. "They're partially responsible for warehousing and distribution policies," says Prof. Zhu.
How SMEs Can Benefit
While many of China's listed companies are well equipped with enterprise software and staffed with professionals who are educated in the science of inventory management, says Prof. Zhu, it is the smaller enterprises and family businesses that could benefit more dramatically from applying scientific inventory processes to improve their operations. Often the high cost of purchasing software offered by the likes of Oracle and SAP can prove prohibitive. But these companies may want to consider the "perfectly decent" enterprise systems offered by Chinese-based software producers such as Grasp, which are much more affordable, says Prof. Zhu.
"These small companies worry about survival first and foremost — that's understandable," he comments. "But as they grow, they need to think about how to operate intelligently. If you introduce an enterprise management package, it can be a helpful way of nurturing a culture of making rational, logical decisions."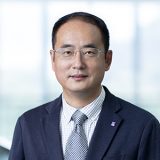 Zhu, Kaijie(朱凱捷)
Professor
Director, MSc Programme in Business Analytics