Logistics Industry: Toward a Sustainable Future
Faced with intense competitions from across the border and around the region, Hong Kong's logistics industry is in acute need for an overhaul. With limited land and labor, where should the city be headed to find a sustainable direction for this sector? Prof. Waiman Cheung offers some constructive solutions
By Louisa Wah Hansen
Despite its advantages in geographic location and its free port status, Hong Kong is facing serious bottlenecks and inflexibility in its logistics sector, as well as intensifying competitions from around the region. These issues threaten not only the sustainability of the industry itself but also the expansion of trade in the long run.
In light of this pressing situation, Prof. Waiman Cheung, Chairman of the Department of Decision Sciences and Managerial Economics at CUHK Business School; and Director of the Asian Institute of Supply Chains and Logistics and the Center of Cyber Logistics at CUHK, has conducted a comprehensive study that analyzed the challenges, competitive advantages and growth opportunities in Hong Kong's logistics industry. The study, conducted in collaboration with Hong Kong think tank SD Advocates and consultancy BMT Asia Pacific over a period of seven months, resulted in a report titled "Sustainable Development Study for the Hong Kong Logistics Industry." It aims to raise awareness of the challenges faced by the industry and contains several key suggestions for the Hong Kong SAR Government to consider.
The Challenges Ahead
Logistics and trade is one of the four pillars of Hong Kong's economy, the others being tourism, financial services and professional services. In terms of GDP, logistics and trade combined to contribute 23.9 percent in 2013. On its own, the logistics cluster contributed 5.3 percent of the city's GDP in 2012.
The logistics sector has always and continues to support trading activities. In fact, says Prof. Cheung, trade and commerce is increasingly dependent on a well-oiled and sophisticated logistics sector due to the expansion of e-commerce activities. "E-commerce already accounts for 20 percent of the U.S. economy. It will account for over 20 percent of the Chinese economy soon, and we are seeing similar growth in Hong Kong," he says. "In fact, as long as there is trade, there will be a need for logistics, and globalization means there will be even more trade and logistics. It is therefore imminent that the logistics sector be given the kind of attention it is due, so that it can continue to play its crucial role in supporting the business activities of Hong Kong."
There are a number of critical areas that are in urgent need of improvements, namely, capacity bottlenecks in terms of land space, facilities and labor; low public awareness and image of the logistics sector; bureaucratic inefficiency and insufficient policy support; and increasing competition from Shenzhen, Shanghai, Singapore, Taiwan and Seoul.
Land Shortage
First, in terms of land for logistics use, such as warehousing, Prof. Cheung points out that there is currently a severe shortage. It is concentrated in the hands of a few property developers, who only lease space in short-term contracts—similar to the rental agreements for regular commercial and residential properties. This creates a big barrier for small and medium-sized enterprises (SMEs), he says, as they face the risk of substantial rent increases every time they renew their leases. Warehousing facilities involve high initial investments, so if a company is forced to move every one or two years due to rental hikes, it would be impossible to recover the costs. Therefore, the land policy in Hong Kong, which prioritizes commercial and residential properties, is not conducive in attracting SMEs to invest in the logistics business.
"Existing facilities are not well built and equipped to begin with," says Prof. Cheung. "On top of that, investors aren't inclined to invest [due to the above reasons]. That's why we need dedicated land for logistics purposes. It can't be just a property developer leasing land with some carved out for logistics use. There should instead be dedicated land with standard facilities for SMEs through long-term rental agreements with a duration of 5-10 years. That would make the industry a lot more sustainable."
Based on feedback from industry stakeholders, six potential sites have been proposed in Prof. Cheung's study for logistics use, including Siu Ho Wan on Lantau Island, Hung Shui Kiu, just across from Shenzhen, Lung Kwun Tan in Tuen Mun West and more. These sites have considerable size, low land premium, close proximity to sea ports and the airport, easy access to major truck routes and highways, away from city centers and easy access from residential districts for attracting medium- to low-skill labors.
Labor Shortage
The study found a shortage in warehouse workers and high labor costs in the Hong Kong logistics industry. Prof. Cheung says that jobs requiring a low level of skills simply cannot attract enough young people. "The government should think about importing more labor to relieve the shortage."
For jobs of a professional nature, such as those involving IT skills, there has not been enough training and education and the general public image of the industry is quite poor, according to Prof. Cheung. "The parents of the young people who want to join the industry may think that it's not a good job. The image is not 'cool.' Worse, the press has been projecting the image that logistics is a 'sunset industry.'"
Prof. Cheung emphasizes that it is time to change that image and raise the awareness among the general public. In fact, the logistics industry has moved along with the expansion of e-commerce and now includes a lot of high-tech and value-added components, such as computerized warehousing systems, RFID track-and-trace technology and more.
"Goods used to be shipped in bulk in containers, but nowadays, people purchase goods by individual pieces. How to manage the delivery of individual items on time and at a reasonable cost will be the biggest challenge going forward. It'll call for technology to track and trace and inspect goods for security and authenticity purposes, which is a lot harder to do than before," he says. That is why it is necessary to train people for the necessary IT skills and develop technological innovations for the industry.
"At the end of the day, developing a sustainable logistics industry in Hong Kong is not just about granting a piece of land or building standard facilities for logistics players. It is about managing the whole sector in a self-sufficient manner." – Prof. Waiman Cheung
Calling for Bureaucratic Changes
One of the keys to solving the bottlenecks and lack of coordination in the development of the logistics industry is to reshuffle the way the Hong Kong government manages the different components of the sector. In Hong Kong, the logistics industry is placed under the Transport and Housing Bureau. "The Secretary doesn't have time to pay attention to this area as his plate is full!" laments Prof. Cheung.
"By contrast, the Singapore government has set up a single window for the logistics industry. If you are from the logistics industry and need some help, you have a single point of contact, who will arrange different departments to deal with you," he says. "Invest Hong Kong does promote the city overseas, but once a foreign logistics company has entered Hong Kong, it has to sort things out by itself."
As a result, the Singapore government has been a lot more progressive in attracting logistics companies from around the world to set up businesses there, he adds.
Prof. Cheung suggests the government to establish a separate bureau so all things related to the logistics cluster can be managed more efficiently. If this is not possible, an alternative is to place logistics under the Commerce and Economic Development Bureau rather than the Transport and Housing Bureau.
Intensifying Competitions
Increasingly, logistics hubs in Asia are posing a potential threat to Hong Kong. Direct competition comes from Shenzhen, which shares the same cargo catchment area in the Pearl River Delta (PRD) region; and Singapore, which shares the same positioning as the regional hub for intra-Asia trade and as a transshipment center.
Prof. Cheung says Hong Kong is competing with Singapore in terms of the level of service quality and reliability. However, the issue of land shortage is less severe in Singapore, and the government there gives much more support to the industry.
As for Shenzhen, there is a lot more land, the operating costs are much cheaper, and the warehousing facilities are better as they are purpose-built for logistics, unlike the warehouses in Hong Kong, many of which have been converted from old industrial buildings.
Despite Shenzhen's advantages, says Prof. Cheung, Hong Kong should not look upon the city as a pure competition. "Hong Kong is small," he says. "We're not necessarily competing with Shenzhen head to head. The logistics industry should look at the bigger picture. We should combine our resources in the PRD and streamline our connectivity with Shenzhen."
He gives an example of a cross-border collaboration: Cargo can be stored in Shenzhen first to make use of the lower storage and labor costs. It can be moved to Hong Kong when there is a need to ship it in a hurry. In that case, Hong Kong can make use of the privilege it enjoys as a free port, such as the possibility of shipping goods before paperwork is processed. This allows for flexibility in the movement of goods in case of emergency situations.
Of course, collaborations such as this require inter-governmental facilitation, so that Hong Kong can play a niche role in the logistics industry of the PRD region.
A New Business Model
Earlier this year, at a symposium on "Sustainable Development for the Hong Kong Logistics Industry," jointly organized by the think tank SD Advocates and Hong Kong Economic Journal, Prof. Cheung received requests from about 20 industry stakeholders to form a concern group to lobby the government on the above-mentioned issues.
At the end of the day, developing a sustainable logistics industry in Hong Kong is not just about granting a piece of land or building standard facilities for logistics players. It is about managing the whole sector in a self-sufficient manner. To this end, Prof. Cheung proposes the establishment of a semi-statutory body to oversee the development, much in the same vein as how the Hong Kong Science Park is being run. The management board of this body can include a few government officials, industry players and professional managers. "It is not a charity, so the operation should be self-sustaining. But let's not forget that it has a clear public mission, which is to ensure the competitiveness of the whole industry and to create jobs, so it shouldn't be completely private either."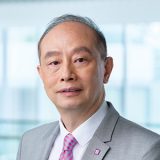 Cheung, Waiman(張惠民)
Professor
Associate Dean (Graduate Studies)
Co-Executive Director, The Asia-Pacific Institute of Business
Director, Asian Institute of Supply Chains and Logistics
Director, Centre of Cyber Logistics
Director of Studies in Graduate Studies in Business
Head, Graduate Division of Business Administration