The Ascent to the CEO Suite
While family business succession is a major problem in the Chinese-speaking world, there are successful cases in which the process is smooth and robust. Find out how the second-generation takes the helm of the family business through entrepreneurial learning in the case of Associated Engineers Ltd
By Jeremy C.Y. Cheng, Kevin Au and Florence H.C. Ho
Associated Engineers Ltd (AEL) was founded by Ging Tak Chow in Hong Kong in 1961. From a single-site workshop providing maintenance services for ground vehicles at the former Kai Tak International Airport in Hong Kong, AEL has now grown into a corporation with over 350 employees, offering engineering products and services to over 30 airport terminals in the world. Apart from airport engineering, it also runs a diverse business portfolio including construction engineering, environmental engineering and material handling systems.
From the Father to the Son
Chow has six sons, all born in Hong Kong and attended high schools and colleges overseas. In 2004, three of them joined AEL while the other three sons were all running their own businesses. Jude Chow is Chow's fourth son. Chow was interested to pass the family business along but did not have a concrete plan. 1
Before joining AEL, the 43-year-old Jude obtained a bachelor's degree in mechanical engineering, a master's degree in engineering management and an Executive MBA in Australia, where he studied strategic management and organizational change. During the early days when he was in Australia, Jude was involved in large-scale engineering projects in a subsidiary of AEL and an external firm, where he acquired technical know-how in engineering and gained some managerial knowledge. In particular, he developed people skills while working with non-family managers.
Upon his return to Hong Kong in 2003, Jude joined a German medical technology firm and became its regional customer service manager. In 2005, invited by his father, Jude joined AEL as a general manager. Initially, he learned about AEL's existing systems through participating in its daily operations. Gradually, through learning by doing, and through actively transferring his prior technical and management experience to the decision-making process at AEL, he started to identify a portfolio of opportunities and threats specific to the company.
At the same time, Jude took an insider's perspective by observing his brothers and a non-family manager. He adopted decision-making protocols that prevented sensitive issues during the transitional period in which he started to take up more responsibilities in his role. For instance, he did not bring in his own "troops" when he first stepped into the business, thereby avoiding actions that could potentially offend the patriarch or other senior management executives. These strategies or decision-making protocols allowed him to seize identified opportunities in the early leadership transition while avoiding disruptions.
In 2008, with a greater awareness of the opportunities and threats specific to AEL, Jude led a corporate restructuring, transforming the use of existing resources and navigated AEL through the global financial crisis. He took the chance to replace the multi-layered organizational structure installed by Chow with self-accountable teams and units. In addition, he managed to restore the profitability of the business by the end of 2009, earning recognition within the company. Then, Jude assumed full responsibility as AEL's group managing director (equivalent to CEO) in 2012, bringing in a new vision and strategies for the company.
Entrepreneurial learning is the process of acquiring skills and knowledge to initiate, manage and grow a venture, which may include learning by doing, handling critical events and absorbing others' experience. These elements contribute to the ascent to the CEO post. As we can see in the case of Jude, he exhibited all of these attributes, having built a rich portfolio of entrepreneurial learning activities, which in return helped him to develop new sets of skills to facilitate and match with the continuous development of the company.
Practical Implications for Family Businesses
Here are some practical implications that family businesses can learn from the case of AEL:
First, help your family managers (or your clients) reflect on their entrepreneurial learning experiences and career plans. Chart their career transitions along with their ability to build dynamic capabilities for the family firm.
Second, create a plan with various experiential learning opportunities and encourage family members to form a community to share their experience. Formal education is useful for developing management concepts and absorbing others' experience, but practice is needed to transform the knowledge to entrepreneurial skills. Build entrepreneurial learning activities not only for personal fulfillment but also for corporate achievements. This raises the chance for an intra-organizational career among incoming generation members, thereby retaining the family talents within the business.
This is an abridged version of the research paper, Entrepreneurial Learning Journey to the CEO Suite: Case of a Second-generation member in a Chinese Family Firm, originally published in STEP Project for Family Enterprising's "The Global Booklet Volume II," 2014.
References
Cheng, J., Ho, F., & Au, K. (2013). Transgenerational Entrepreneurship and Entrepreneurial Learning: A Case Study of the Associated Engineers Ltd. in Hong Kong. In A. Gonzalez, R. Nason, K. Ramachandran, & P. Sieger (eds), Exploring transgenerational entrepreneurship: The role of resources and capabilities: Vol 1, Chapter 4. Cheltenham, UK: Edward Elgar.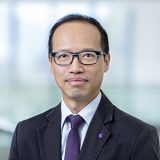 Au, Kevin Yuk-fai(區玉輝)
Associate Professor
Director, Centre for Entrepreneurship
Director, Centre for Family Business