The Effect of Individual Auditors on Audit Quality: Evidence from China
The importance of individual auditors in determining audit quality has received increasing. Now, details of the effect are revealed
By Huang Hong, PhD Candidate of School of Accountancy, CUHK Business School
Audit plays a significant role in the capital market. Through a systematic and independent investigation of the accounting procedures, judgements and figures, auditors issue audit reports, providing reasonable assurance to users of the financial statements that the corporate financial information is free from material misstatement. And a high-quality audit report is important to offer transparency to a company's information and can facilitate its financing and investment behaviors.
Given that audit is so important, what factors affect its quality? Apart from firm practice, do individual auditors matter too?
"Prior accounting and financing studies have largely conducted audit-quality analysis at audit firm or city-based practice office levels. But the importance of individual auditors in determining audit quality has not received much attention until recent years," says Prof. Wu Donghui, Associate Professor of the School of Accountancy at The Chinese University of Hong Kong (CUHK) Business School.
To better understand the audit quality at individual level, Prof. Wu has carried out a research entitled "Do Individual Auditors Affect Audit Quality? Evidence from Archival Data". The study was done in collaboration with Prof. Ferdinand A. Gul from Monash University Sunway Campus and Dr. Yang Zhifeng from City University of Hong Kong.
According to Prof. Wu, individual auditors are constrained by the quality-control mechanisms within the audit firm. Audit firms try to maintain consistency in audit quality through control mechanisms, including standardization of work procedures and centralized control of risk and materiality decisions. However, in such a case, an auditor still has room to exert discretions on his or her personal judgement or decisions.
Although believing that individual auditors can affect audit quality, the researchers are still not sure how large such effects would be. To explore deeper into the effects, the team utilized a large-scale data of over 800 individual auditors in China, and investigated the individual auditor effects.
Unique Audit Dataset in China 
"Data on the identity and characteristics of individual auditors are not available in the US and other major markets, but in China, auditors are required to identify themselves in the audit report, so we analyzed the variation in audit quality across individual signing auditors in China," Prof. Wu explains.
China's auditing standards require engagement auditors to sign the audit reports so that the responsibility of the audits performed can be clarified. And there are usually two signing auditors for each audit report. The senior signing auditor is mainly responsible for decision-making on significant matters in the audit process while the relatively junior signing auditor mainly performs the audit fieldwork. Hence, this unique feature of Chinese market enables researchers to identify individual auditors and investigate the effects of individual signing auditors on audit quality.
"Auditors who have political affiliations proxied by membership in the Chinese Communist Party are associated with worse audit quality." – Prof. Wu Donghui
Individual Auditor Effects Exist
For the purpose of the study, the researchers finally included 878 unique signing auditors and 14,802 company-year observations from 1998 to 2009 in the sample. Meanwhile, to measure audit quality, the study looked into several indicators such as abnormal accruals and audit reporting aggressiveness in audit reports and audited financial statements.
The result shows that individual effects are significant, both statistically and economically, for all quality measures. To be specific, the impacts of individual auditor increase the explanatory power of audit quality by 7.02 percent to 33.82 percent, depending on different measures of audit quality.
"The magnitude of individual auditor effects is large and meaningful. For example, the difference between a conservative engagement auditor and an aggressive one in their audited accounting ROAs (i.e., returns on assets) can be as large as 2.6 percent," says Prof. Wu. "This is to say, individual auditors differ to a notable extent in terms of audit quality."
The study has attracted substantial scholar attention. Some researchers caution that findings from China may not be generalized to other markets on the ground that China's institutional settings can be unique. However, several recent studies have confirmed that partners' auditing styles also exist in the public accounting professions in Taiwan, the UK, and the US. For example, Prof. Jere Francis, a well-known auditing researcher, concludes in his co-authored paper, "idiosyncratic partner behavior appears to occur in weak regulatory environments like China, and strong regulatory environments like the UK."
Individual Characteristics That Matter
According to Prof. Wu, past research suggests that audit quality can be affected by the individual auditor's judgement and decision-making attributes, such as his or her expertise, ability, risk profile, cognitive style, and independence. In light of this, the study examines several personal characteristics, including education, gender, birth, working experience in large audit firms, as well as seniority and political affiliation, to see whether these factors can explain the individual effects.
The result shows that when the signing auditor is a partner of an audit firm, then the audit quality is better. "This is consistent with prior findings that partners take a tougher stand in requesting accounting adjustments than non-partner auditors," Prof. Wu explains.
Educational background also makes a difference: auditors with graduate degrees tend to be more aggressive, and those who were exposed to Western accounting systems during their college education are more conservative.
Moreover, individuals having work experience in large international audit firms have better audit quality than others, which is also consistent with prior research findings.
Prof. Wu further finds another unique characteristic in China.
"Auditors who have political affiliations proxied by membership in the Chinese Communist Party are associated with worse audit quality," he says. "A possible reason is that political affiliations may provide individual auditors with some protection from audit failure penalties, thus encouraging them to behave more aggressively in auditing."
Implications for Policymakers
Documenting that individual auditors' characteristics do affect their judgments and ultimately translating into variation in audit quality, the study by Prof. Wu carries practical implications for policymakers.
According to the researchers, unlike in China, audit reports in many countries have not indicated the names of engagement auditors until recently when important regulatory changes have been proposed or implemented. For example, in 2011, the Public Company Accounting Oversight Board (PCAOB), the de facto auditing standard setter under the Securities and Exchange Commission (SEC) in the US, proposed to amend its auditing standards to require audit firms to disclose the names of engagement partners in their audit reports. Citing the study's findings in its regulatory circle released in 2015, the standard setter explains that "(audit) firm reputation is an imprecise signal of audit quality because engagement partners and other audit participants differ in the quality of their audit work." The new standard, requiring the disclosure of the specific partner in charge of the audits of public companies in the US, has been implemented earlier this year.
"It is exciting to see that our study has provided a good reference for the standard setters and influenced auditing practices," Prof. Wu remarks.
"Overall speaking, our work represents a response to the call from academics and policymakers for more scrutiny and understanding of audit quality at the individual auditor level. After this study, we have started several projects on the interplay between individual auditors in the audit environment. We expect these follow-up studies will produce important policy and practical implications alike," he says.
References:
1. Gul, Ferdinand A., Donghui Wu, and Zhifeng Yang. "Do individual auditors affect audit quality? Evidence from archival data". The Accounting Review 88.6 (2013): 1993-2023.
2. Francis, J. 2004. What do we know about audit quality? The British Accounting Review 36 (4): 345–368.
3. Jeppesen, L. 2007. Organizational risk in large audit firms. Managerial Auditing Journal 22 (6): 590–603.
4. Trotman, K., A. Wright, and S. Wright. 2009. An examination of the effects of auditor rank on pre-negotiation judgments. Auditing: A Journal of Practice & Theory 28 (1): 191–203.
5. Ministry of Finance of the People's Republic of China (MOF). 1995a. Audit Report. Independent Auditing Standards No. 7 (in Chinese). Beijing, China: MOF.
6. Ministry of Finance of the People's Republic of China (MOF). 1995b. Practice Guidelines of Certified Public Accountants in China No. 1: Annual Report Audit (in Chinese). Beijing, China: MOF.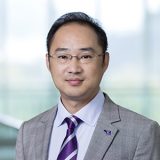 Wu, Donghui(吳東輝)
Professor
Director, Centre for Institutions and Governance
Director, Executive Master of Professional Accountancy Programme