The Future of Logistics in Hong Kong
What the Kwai Tsing Container Terminal strike tells us about the future of logistics industry in Hong Kong
By Louisa Wah Hansen
As the Kwai Tsing Container Terminal Strike enters its third week, it remains unclear how the dispute will end. Some media commentators focused on the workers' plight and speculated on Hong Kong's potential loss of competitiveness to its neighboring ports such as Shenzhen and Singapore. However, Prof. Waiman Cheung, Chairman of the Department of Decision Sciences and Managerial Economics at The Chinese University of Hong Kong (CUHK) Business School, thinks that the strike reflected a much more complex situation behind the scene.
Prof. Cheung says while it is understandable that the workers demand better salaries and treatment due to the severe inflation and high living costs, the terminal operators are also under pressure. Even if the workers manage to get what they demand, the long-term scenario may not look rosy for them.
He analyzes how the scenario may pan out if the workers achieve an improvement in their pay and working conditions:
"Moving containers is considered a low-value-added job. So when workers demand a higher pay, that's additional cost for the operators. Hong Kong cannot compete with Shenzhen on labor and land cost. The other competitor, Singapore, actually imports labor. So if an agreement of a substantial salary increase is achieved, the terminal operators will have to think of a way to cut costs. Unfortunately, this would mean bad news for the workers. As competition would eventually drive the operators to squeeze the labor costs by automating the process, they might then hire fewer workers," says Prof. Cheung.
From a purely rational point of view, Prof. Cheung says the reason why the workers haven't received a good salary raise for a long time is the low value-added nature of their work. Still, they are being paid higher than non-skilled labor in other industries because their work is high-risk and extremely demanding.
On the other hand, the port operators are facing the challenge of keeping the volume of shipment throughput high in order to maintain high frequency shipping schedule and sustain their business. The logistics industry needs favorable shipping schedules to attract high-value products and high-value-added logistics services coming to Hong Kong, says Prof. Cheung. At the same time, the logistics industry in general is facing a labor shortage and this problem is unlikely to be solved in the future as the younger generation is unwilling to take up this form of hard and risky job. In his opinion, automation is the way to go.
"In order to maintain a critical mass and keep the costs low, we need to invest in automation. It will be more efficient, and it will help maintain the critical mass. Then we can have the opportunity to do higher-value-added services such as running regional distribution centers for luxury products," he says.
He believes that automation should have happened earlier, but operators have been hesitant in investing in the necessary equipment. Why?
"Here is the operators' conundrum: What is the future of the logistics industry in Hong Kong? Do I have enough time to recover my investment? And, if I have a dollar to invest, where should I invest in — Shenzhen or Hong Kong?"
Prof. Cheung points out that all the major terminal operators in Hong Kong also have substantial stakes in Shenzhen's terminals. "Shenzhen is just their left pocket. To them, it's not a big deal if they switch their operations entirely across the border."
What, then, would make the port operators commit to staying in Hong Kong and work out a solution that is both fair for its margins and for the workers? To Prof. Cheung, the long-term growth prospect of Hong Kong as an important logistics hub is an important factor, and the government has to play an active role in this.
"Whether cargo will keep on coming to Hong Kong or not, it depends on whether the operators will have confidence in their future here," he explains. "If they don't see a future, why should they invest in Hong Kong? Why not invest in Shenzhen? If the Hong Kong government can project a positive, long-term prospect of logistics in Hong Kong and continue to treat it as one of the polar industries, of course the operators would be willing to invest. Otherwise, they could easily decide to invest in Shenzhen if it would give them a higher margin."
Prof. Cheung criticizes that the government has been sending out mixed and unclear signals to the logistics industry about the construction of a logistics park and Terminal No. 10. "It's on and off, so the industry is never sure. Are we in or not? If the SAR Government is not sure or not committed, I would think twice when I have a dollar to invest," he says.
He suggests the government to make long-term planning on logistics land use and facilities for 20 years or more, and constantly convey these plans to the industry so the players would have more confidence in the future and be motivated to invest.
In the meantime, Hong Kong's reputation is facing the risk of being tarnished if the labor dispute drags on. "If things can be handled effectively within weeks, I don't think it would hurt Hong Kong's image as an efficient and reliable port. However, if we cannot handle this situation effectively — if it lingers or if it happens too often, then to the shippers and the ship liners, the uncertainty and risks would become a hidden cost."
In addition, there is a social responsibility aspect when it comes to Hong Kong's reputation. "You don't want to be challenged that your cargo is taking advantage of certain cheap labor practices in Hong Kong," he says. "This could lead to a negative image in the long run."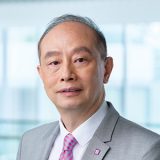 Cheung, Waiman(張惠民)
Professor
Associate Dean (Graduate Studies)
Co-Executive Director, The Asia-Pacific Institute of Business
Director, Asian Institute of Supply Chains and Logistics
Director, Centre of Cyber Logistics
Director of Studies in Graduate Studies in Business
Head, Graduate Division of Business Administration