A Deep Dive into Labour Demand in China
New report takes a snapshot of the Chinese labour markets and examines in detail the evolving demand for human capital
By Ma Xiaoran and Chang Yujie
China is experiencing a structural employment dilemma. Graduates are leaving university struggling to find jobs, but at the same time, companies are also finding it exceedingly difficult to recruit candidates with the right skills. This is happening amidst the backdrop of the persistent impact of the COVID-19 pandemic, the complex and changing international environment, the growing uncertainty of the global economy and the aging population.
Using a large-scale online job posting dataset encompassing the years 2017 to 2021, a team of researchers at The Chinese University of Hong Kong (CUHK) and The Chinese University of Hong Kong, Shenzhen (CUHK-Shenzhen) sought to investigate the human resources demand of publicly listed firms in China. They published their findings in a study titled 2022 Research Report on Job Recruitment of Chinese Public Companies.
The research was led by Wu Jing, Associate Professor at the Department of Decision Sciences and Managerial Economics at CUHK Business School, and Zhang Bohui, Executive Associate Dean of the School of Management and Economics and Presidential Chair Professor of Finance at CUHK- Shenzhen.
"Companies need to be aware of advances in their respective industries and hire talent to combat the cutthroat competition caused by the rapid evolution of mainstream technologies."
In China, A-share companies listed in the country's Shanghai and Shenzhen stock exchanges represent the country's leading enterprises across all industries. In studying the labour market environment and trajectory of supply and demand for human capital of these organisations, the researchers sought to provide governments, colleges, and companies with facts and analysis for accurate decision-making.
It is also expected to allow governments to formulate realistic talent acquisition strategies, and colleges and other educational institutions to adjust their training programs in response to the needs of the labor force. Companies also need to be aware of advances in their respective industries and hire talent to combat the cutthroat competition caused by the rapid evolution of mainstream technologies. All of these actions require an intimate understanding of the current status of the country's job market and the trends that are influencing demand for human capital.
A Comprehensive Dataset
A vast majority of Chinese companies post their recruitment information on the internet. This type of publicly available information is abundant, covers a broad range of industries, provides specific job descriptions, and contains a wealth of skill-related data, thus can facilitate the creation of a comprehensive profile of human resources demand. By examining this information, this report sought to look at the trends in the demand for human resources on the part of listed companies in China, from the perspectives of salary, place of employment, academic background, work experience, hard or soft skills, and age and gender requirements. It further explores case studies concerning the country's national development policies and developing industries, such as the Greater Bay Area of Guangdong-Hong Kong-Macao, as well as in carbon neutrality, biotechnology, and semiconductors.
In examining the Chinese labour markets, the research team first turned their attention to the timing of recruitment by listed companies. In China, the months of March and April, which follow the Chinese New Year holidays, is typically a crucial window for companies to adjust their operations and relocate employees. Consequently, recruiting tends to surge during these two months. On the contrary, the team found (to their surprise) that September and October, traditionally peak business months and crucial times for companies to recruit people for expansion in the following year, no longer maintained high recruitment intensity. The results indicated that both the number of employing companies and the number of job postings began to decline from September, signaling the beginning of a low season for talent recruitment.
Geographically speaking, the work locations of job postings were concentrated in China's four biggest tier-1 and smaller "new tier-1" cities, with Shanghai and Shenzhen topping the rankings in terms of the number of job postings. Companies offered the highest salaries in tier-1 cities Beijing, Shanghai, and Shenzhen, while new tier-1 cities, such as Hangzhou, saw significant salary growth in the same period. From 2017 to 2021, jobs in most cities also set higher requirements in terms of the prerequisite educational background for job applicants, as well as placing a higher threshold for work experience of at least three to five years.
Across different industries, the demand for talent in the computer and medical industries was the highest, while that in the non-bank-based finance and household electric appliance industries also experienced high growth. The demand for talent in the real estate industry actually declined. From 2017 to 2021, all industries saw an increase in demand for talent with between three to five years of experience.
IT, Soft Skills in High Demand
Looking at specific skillsets, the study found that in 2021, the demand for C++ programming skills among listed firms was significantly higher than that of any other skill, and this demand is continuing to rise. This means that C++, a "low-level" programming language that can be run directly on computer hardware without translation, plays an indispensable role in the industry. In addition, during the period from 2017 to 2021, the demand growth for Python, a popular programming language which is used for developing websites as well as data visualization, and front-end programming skills (which focuses on developing websites or applications that a user typically interacts directly with) were among the highest, reflecting the increasingly rich functions of internet products as well as the growing attention attached to user experience.
Meanwhile, the automobile industry also showed growing demand for fundamental IT skills such as C++ programming, communications, data analytics, software development, new energy and product design. In contrast, more traditional skills, such as in machinery, mechanical and electrical engineering, and CAD (Computer-Aided Design), suffered a fall in demand and this resulted in job postings with average salaries that were lower than the rest of the industry. This reflected that the automobile industry has shifted from manufacturing hardware alone to a blend of both hardware and software.
Among the softer skillsets, the thirst among listed firms for the most innovative talent has also increased year by year, indicating that businesses are generally conscious of the importance of the ability of its workforce to generate innovative ideas. This demand for the ability to innovate was positively correlated to job listing requirements related to educational background, work experience, and to the salary level. On the other hand, the desire among listed firms for staff who were more resilient to stress also increased year by year. Job postings which specify the need for higher stress resiliency tend to be less strict on academic and work experience requirements, while offering lower salaries.
Age and Gender Preferences of Employers
Among the job postings sample, the researchers noted a phenomenon whereby many job postings set an age limit, requiring applicants to be under the age of 35. At the city level, Wuhan and Zhengzhou had the most stringent age requirements for job applicants, while Hangzhou and Beijing placed significantly less emphasis on age. In addition, tier-1 cities imposed less stringent age limitations on candidates than new tier-1 and the even smaller tier-2 cities. Among the four tier-1 cities, Guangzhou had relatively tighter age requirements for job seekers.
It also found that heavy industries, such as those dealing with petroleum, petrochemicals, and non-ferrous metals, tend to prefer male job applicants. In contrast, light industries, such as in textile and apparel, tend to prefer female applicants. Where a job listing specifies gender preferences, they were frequently also coupled with requirements related to age, appearance, and height and which are related to the specialties and qualities required for the position. However, a better educational background, more work experience, and proven competency in the related roles tend to be conducive to helping reduce employer gender bias.
Based on the large-scale dataset, the team also conducted case studies on topics related to national development strategies and fast-growing industries such as the Guangdong-Hong Kong-Macao Greater Bay Area (mainland portion), carbon neutrality, biomedicine, and semiconductors. Please also refer to the full report here in Chinese for more details.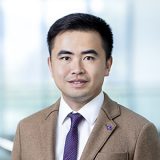 Wu, Jing(吳靖)
Associate Professor
Associate Director, Master of Science Programme in Business Analytics
Director, Institute Development Office, Asian Institute of Supply Chains and Logistics