Marketing
• 4 minute read
Are Touchscreens the Future of Food and Beverage Retail?
Restaurants and food outlets need to understand how the increasing use of self-service kiosks can affect consumer choice
Once reserved for establishments that are on the cutting edge of the retail food and beverage industry, touchscreens have now become ubiquitous in restaurants, especially among those serving fast food and in case of Asia, sometimes even in fancier restaurants such as sushi bars in Japan.
Restaurants that use touchscreens need fewer workers to man cash registers, lower the chance of human errors, and past studies have suggested that customers buy and spend more when ordering on touch interfaces. The adoption of service kiosks in the food and beverage industry has also been accelerated in recent years as consumers become more concerned about the risks of the transmission of viruses as a result of the pandemic.
According to a recent report, the global market for interactive touchscreen kiosks was valued at a total US$27.5 billion in 2022, and is expected to almost double to US$45.8 billion by 2032.
Clearly, touchscreens are here to stay as businesses continue to steadily recover from the pandemic, but do their use affect consumer choice when ordering food and what could be potential implications for consumers and policymakers? That what we sought to find out in the study Computer Interfaces and the "Direct-Touch" Effect: Can iPads Increase the Choice of Hedonic Food?
In laboratory studies with undergraduate students in two universities in Hong Kong, we tested the use of different user input methods, from touchscreens to the more traditional mouse and keyboard arrangement, and sought to find out whether this affected their purchase choice.
"Marketing strategies can be tailored by adopting different computer interfaces to yield the desired choice among consumers." – Prof. Hao Shen
Specifically, we looked at whether the use of a touch interface would affect whether consumers are more likely to choose hedonic food which would cause them to feel better emotionally (such as by indulging in a piece of cheesecake), or something they cognitively know is healthier for them (such as a bowl of salad).
What we found was that using a touch screen facilitates mental interactions with the product in such a way that causes consumers to make hedonic (tastier) choices over utilitarian (healthier) ones, a phenomenon which we could come to call the "direct-touch" effect.
When consumers use a touch interface to select food, the action mimics our natural and physical act of reaching out to grab hold of an item. When we touch the picture of a piece of cheesecake on a screen, it is similar to reaching out to grab ahold of this cheesecake in real life. This urge, however, is less strong for foods that are utilitarian in nature.
The findings of this study carry important implications for not only for marketing professionals, but also for public policymakers. At the very minimum, if the choice of a computer interface can influence our food choices, then both consumers and policy officials need to be made aware of this so they can adopt strategies to facilitate the take up of healthier food.
For marketing professionals in the food and beverage industry, it implies that as more and more restaurants seek to benefit off the advantages of using touchscreen menus for ordering, marketing strategies can be tailored by adopting different computer interfaces to yield the desired choice among consumers.
To find out more about a specific topic, click on the links below to navigate to the relevant chapter:
INTRODUCTION – Retail Marketing in the Digital Era
PART I – Capturing Consumer Attention in the Smartphone Era
PART II – Digital Payments and Consumer Purchase Decisions
PART III – Can Social Media Platform Choice Can Affect Customer Feedback?
PART IV – Are Touchscreens the Future of Food and Beverage Retail?
CONCLUSION – The Importance of Understanding Retail Trends in the Digital Age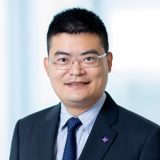 Shen, Hao(沈浩)
Professor
Director, MSc Programme in Marketing