Marketing
• 4 minute read
Digital Payments and Consumer Purchase Decisions
How paying using electronic means can activate different mindsets among consumers that affect purchase choice
Cash is no longer king, and its decline has been exacerbated by the rise of electronic payments. According to the World Bank, two-thirds of adults across the globe make use of digital payments, with the share in developing economies growing from 35 percent in 2014 to 57 percent in 2021. Again, this is a trend that has been accelerated by the pandemic, with over 40 percent of adults in low- or middle-income economies who made online payments doing so for the first time since the start of the pandemic.
But do digital payments, such as more traditional credit cards in addition to newer forms such as electronic wallets (which has helped to shape online shopping into a seamless experience), affect how consumers make purchase decisions, and how can marketers take advantage of this?
This is a question we sought to answer in the study Go beyond just paying: Effects of payment method on level of construal, which looked at whether the choice of using cash or paying by plastic affected a consumer's mindset. To be specific, we sought to look at whether making payments in credit cards or cash could lead consumers to think about their purchase decisions in a more abstract versus concrete manner.
We studied this by conducting a series of laboratory experiments and field experiments in Northern China and in the U.S. What we found was that if people paid for purchases with a credit card, as is the case in an online transaction, then it would cause them to activate a more abstract mindset that causes them to focus on the main features of the product or service they are considering purchasing. On the other hand, paying with cash can cause consumers to activate a more concrete mindset and to focus on the minor details of a product or experience.
"When people pay for things by cash, they tend to find the experience more painful, compared to those who pay by credit card" – Prof. Hao Shen
There can be various explanations for this. First of all, when people pay for things by cash, they tend to find the experience more painful, compared to those who pay by credit card. Previous research has established that that the presence of negative feelings can foster a more concrete style of thinking in people. The process of paying cash also involves handing over a visible amount of hard-earned cash, whereas credit card payments only involve handing over a plastic card.
Also, when paying for things in cash, people part with their cash immediately, whereas when paying for things using a credit card, they don't see the financial result of that until their credit card statement arrives at the end of the month. The immediacy of the transaction can cause people to focus on the moment and adopt a more concrete mindset in their purchases.
These findings carry practical implications for marketing professionals. Because priming people with the concept of credit card or cash as a payment method may influence their choice of products, marketers may consider highlighting different types of product information when they communicate with consumers within the ecommerce context to increase the chances successfully closing a transaction. For example, they may consider communicating information in a more abstract manner when designing online promotions. By doing so, they can help to ensure consumers focus on the right details and increase sales.
To find out more about a specific topic, click on the links below to navigate to the relevant chapter:
INTRODUCTION – Retail Marketing in the Digital Era
PART I – Capturing Consumer Attention in the Smartphone Era
PART II – Digital Payments and Consumer Purchase Decisions
PART III – Can Social Media Platform Choice Can Affect Customer Feedback?
PART IV – Are Touchscreens the Future of Food and Beverage Retail?
CONCLUSION – The Importance of Understanding Retail Trends in the Digital Age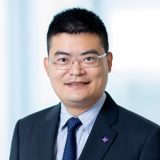 Shen, Hao(沈浩)
Professor
Director, MSc Programme in Marketing