Retail Marketing in the Digital Era
The Unstoppable Rise of Online Commerce in the New Normal
COVID-19 has done much to change the purchase habits of consumers around the world, especially by significantly accelerating the adoption of online commerce. Around the world, retail stores shut down as countries entered lockdowns to prevent the spread of the virus during the start of the pandemic. Online commerce boomed as consumers flocked online to purchase a wide array of goods.
Two years on, in the new normal that has emerged, it is becoming increasingly apparent that the rise in ecommerce is here to stay. According to figures released by the United Nations Conference on Trade and Development (UNCTAD), the online retail sales of seven countries that altogether made up for around half the world's total GDP jumped from US$2 trillion in 2019, immediately before the pandemic began. This rose to around US$2.5 trillion in 2020 at the height of the pandemic, and its rise was sustained into 2021 at US$2.9 trillion, with China making up for over half of online retail sales across these markets.
Customers are becoming increasingly savvy in their digital shopping experiences. To ensure businesses stay on top of trends in the post-pandemic world, they must build an effective strategy that takes into account the rapid evolution of consumer preferences that have been brought on by the pandemic.
In this CUHK Business School Research White Paper, we shall examine some of the questions that companies and marketing professionals must deal with to succeed in this new digital age. First of all, customers now more than ever expect e-commerce websites to be clear, informative and highlight the wide variety of products available to them. In light of this, how can companies most effectively capture the attention of consumers in a digital age where the majority of purchase decisions are increasingly being conducted in front of mobile devices such as smartphones?
As consumers have switched their purchase habits away from physical retail stores, so too has payments now shifted to being dominated by an array of region-specific digital formats, from bank transfers to e-wallets and credit cards and even short-term financing (Buy Now Pay Later) solutions. But can the use of digital payments affect how customers make purchase choices?
Social media has also become a crucial part of any e-commerce plan, with the popularity of platforms such as Instagram, Tiktok to China's WeChat all surging as people sought to maintain social contact at the height of the pandemic. Many of the current generation now use social media as their main conduit with which to learn more about the world around them, including where to shop and what to buy. In this age of the rise of social media, how can companies leverage off new and exciting ways to communicate to their customers and spread the word of mouth, and how can they shape consumer feedback to their advantage?
Finally, physical retail itself has been transformed as customers have gradually make their way back to brick and mortar stores, with more and more businesses making use of touch interfaces to communicate and interact with customers. Do their use affect consumer choice and what could be potential implications for consumers and policymakers?
These are some of the questions that we will be seeking to address.
To find out more about a specific topic, click on the links below to navigate to the relevant chapter:
INTRODUCTION – Retail Marketing in the Digital Era
PART I – Capturing Consumer Attention in the Smartphone Era
PART II – Digital Payments and Consumer Purchase Decisions
PART III – Can Social Media Platform Choice Can Affect Customer Feedback?
PART IV – Are Touchscreens the Future of Food and Beverage Retail?
CONCLUSION – The Importance of Understanding Retail Trends in the Digital Age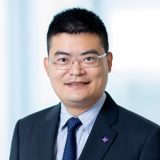 Shen, Hao(沈浩)
Professor
Director, MSc Programme in Marketing