Building Hong Kong as a Global Innovation Hub
CUHK expert shares Hong Kong's journey of entrepreneurship and its key to success
By Jaymee Ng, Principal Writer, China Business Knowledge @ CUHK
Apart from its well-known reputation as the global financial centre, Hong Kong is the fifth fastest growing startup ecosystem in the world with a valuation of more than US$15 billion. Will Hong Kong soon become a global innovation hub? According to Prof. Toa Charm, the answer is positive.
"Hong Kong has entered Startup 2.0.   In Startup 1.0, we focused on quantity.  Four years ago, we did not have a large number of startups but now we do.   In Startup 2.0, we aim at quality.  Our goal is to cultivate high-quality startups, bridge them with large and small enterprises for a win-win collaboration, and get adequate funding or 'Smart Money' for the startups to scale up in terms of technologies and market coverage, " says Prof. Charm, Associate Professor of Practice in Management and Director of Business Development of the Asia-Pacific Institute of Business at The Chinese University of Hong Kong (CUHK) Business School.
Hong Kong: The City of Eight Unicorns
Given its free market mechanism and the long history of entrepreneurship, Prof. Charm believes that Hong Kong is the ideal place for startups to blossom.
According to InvestHK's survey, there were 2,625 startups in Hong Kong in 2018, representing an 18 percent increase from 2017. The survey states that the startup companies employed 9,548 people, up 51 percent from 2017. In addition, 62 percent of the founders are local Hong Kongers while 35 percent are from overseas including the UK, the US, mainland China and Australia. These startups are mainly in four major sectors: FinTech, AI and Robotics, BioTech and Smart Cities. The HKSAR Government has been cultivating the Innovation and Technology industry around these four pillars as well.
Although Hong Kong's startup culture only began four to five years ago, the region has already produced eight unicorns.  A unicorn is a startup company with a value of over US$ 1 billion determined by private or public investment.
"We already have eight unicorns among just 7 million people. This is a very high ratio. People may say that China has many more unicorns; however, if you divide the number of unicorns there by 1.3 billion population, the ratio is not as high as that of Hong Kong," Prof. Charm says.
The Hong Kong unicorns are of a great variety, including:
BitMEX –  a P2P cypto-coin trading platform for global retail investors;
GoGoVan –  the first app-based platform that offers transportation and logistics;
Klook – an online travel activities and services booking platform;
Lalamove – a local delivery platform that offers professional van and truck services;
Sensetime – the world's highest value AI startup company with self-developed deep learning supercomputing centre, founded by Prof. Tang Xiaoou, Professor at the Department of Information Engineering at CUHK;
Tink Labs – an in-room guest services platform that enable hassle-free travel experiences;
WeLab – a mobile lending platform backed by famous Hong Kong tycoon Li Ka-shing; and
Airwallex – the latest member of the unicorn club, which provides smart cross-border payment technology.
Given its proximity to mainland China, Prof. Charm believes that Hong Kong can be the innovation hub for local and overseas startups and the perfect solution to those who would like to expand their markets.
"For overseas startup companies, they can find investors in Hong Kong, and leverage on our startup ecosystem that can support their growth, including research, financing and even sample customers. On the other hand, Hong Kong can open doors for them to the Greater Bay Area and Southeast Asian markets," says Prof. Charm. "If Hong Kong can strengthen this ecosystem, more and more foreign startups would choose to come to Hong Kong."
"The next three to five years is crucial for Hong Kong's growth as an innovation hub. I hope by then, Hong Kong's startup will enter the stage of 3.0 and that our local startups will be able to become global companies like all other successful startups in the world." – Prof. Toa Charm
Understanding Society's Pain Points
The HKSAR government is deeply committed to transform Hong Kong into a leading global hub for innovation and entrepreneurship.  For instance, the government has allocated over HK$100 billion to improve the ecosystem for startups and a HK$2 billion Innovation and Technology Venture Fund to co-invest with private venture capitalists in local startups. Private companies such as Alibaba's Entrepreneurship Fund has also established a HK$1 billion fund to invest in promising local startups.
However, even though the funding is up for grabs, a startup still has to prove its worthiness.
"I think there are several key success factors. Firstly, you need to identify the market pain points. Is your product or service able to solve an existing problem?  Do many people in the world have the same problem?  Can your innovation out-solve the problem than other similar products? Secondly, you need a team that can implement your ideas. Lastly, your business should be able to contribute to the society with social impact," Prof. Charm says.
Having served as an advisor to several big data and fintech startups and as a mentor for various incubation and acceleration programmes in Hong Kong, Prof. Charm thinks that even though startup companies are mostly about innovation, prior work experience is crucial for success.
"The FinTech companies' founders are experienced; most of them are over 40 years old and have worked in the financial services sector before. They understand the industry well. They know the pain points from serving their clients at the banks. They know the existing financial services could not solve these pain points and therefore have come up with new ways of solving the problems."
Citing WeLab as an example, he says, "WeLab uses a low-cost method to help those who may not be able to get a loan from traditional banks while keeping the risks to a low level."
Encouraging Innovation within the Traditional Enterprises
To support the ecosystem, Prof. Charm urges that traditional local companies should try to collaborate with startups by trying out their new and innovative products and services. Instead of worrying about the digital disruption and being replaced by technology advancement such as artificial intelligence, traditional companies should consider cultivating intrapreneurship, if funding allows.
"Companies should setup an internal team to generate new ideas within the company. The innovation team should be given autonomy and authority to make changes. This way, they can ensure new developments are happening in the company," Prof. Charm says.
Technology Talent in High Demand
"Though we've seen some initial success of our startups, there is a common challenge for local and foreign startups in Hong Kong: We need more technical people in advanced technology to fuel our innovation engine and deliver technology related tasks," says Prof. Charm.
The good news is that Hong Kong has a number of the world-leading universities. CUHK as well as other local universities have recently set up specific undergraduate and graduate programmes on the latest digital technologies, such as FinTech, Big Data, etc., to develop talent for the rising demand.
Prof. Charm believes it is crucial for Hong Kong to leverage on the supply of technology talent from mainland China, especially the Greater Bay Area.
"It's really a win-win solution for both Hong Kong and mainland China.  The technology experts from mainland China can help our Hong Kong startups on the technology side while Hong Kong companies can help these technological entrepreneurs from mainland China to commercialize their innovations and enter the global markets," Prof. Charm says.
Looking Forward to Startup 3.0
Speaking of the future, Prof. Charm is positive about the growth of Hong Kong's startup ecosystem.
"The next three to five years is crucial for Hong Kong's growth as an innovation hub. I hope by then, Hong Kong's startup will enter the stage of 3.0 and that our local startups will be able to become global companies like all other successful startups in the world," says Prof. Charm.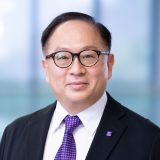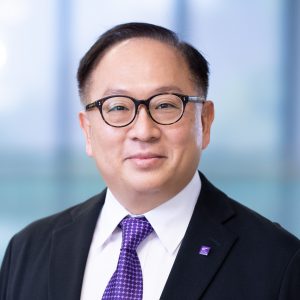 Charm, Toa(湛家揚)
Associate Professor of Practice in Innovation and Technology
Associate Director, EMBA Programme
Director of Business Development, The Asia-Pacific Institute of Business