Making Real Impacts in Your Investments
Experts from Chicago Booth and CUHK Business School share how investors should work together to implement and create impact
By Jaymee Ng, Principal Writer, China Business Knowledge@CUHK
Impact investment has become a hot and trendy investment option among global investors. According to the 2018 Annual Impact Investor Survey conducted by Global Impact Investing Network, more than US$228 billion are invested in impact, which doubled last year's estimate. More and more investors have expressed their intentions to solve social challenges and for philanthropy purposes. Companies, on the other hand, have come to realize that it is equally important to seek both financial and social return.
However, what is impact? How do we define the social impact of an investment? The answers to these questions may be more complicated than one can imagine. Prof. Robert Gertner, Joel F. Gemunder Professor of Strategy and Finance at the University of Chicago Booth School of Business offered some insights at a recent workshop held at The Chinese University of Hong Kong (CUHK) Business School.
The Impact Investment Workshop was jointly offered by the Asia-Pacific Institute of Business (APIB) of CUHK Business School and The Hong Kong Jockey Club Programme on Social Innovation – a partnership between The Hong Kong Jockey Club Charities Trust, the University of Chicago, and the University of Chicago Booth School of Business.
"The social impact of an investment is the difference in social outcomes with the investment compared to a counterfactual world without the investment," Prof. Gertner explained. "If in the counterfactual, the company would have raised the same capital from a traditional investor on the same terms, and done the same things with it, there is no impact."
According to Prof. Gertner, in order to define the existence of an impact, there must be a difference in the status of the social problem that the venture address to – in other words, what the problem would have been without the venture. In addition, investors must not confuse outcomes as the impact since outcomes may be due to factors other than the venture itself.
Measuring impacts is a key challenge facing investors. In this regard, Prof. Gertner introduced four methods to measure impacts: Firstly, investors can examine the before and after effect in the social problem under the venture. Secondly, they can compare the effect of those who received help from the venture to those who did not receive help. Thirdly, they can adopt a difference-in-difference strategy to compare the improvement of the situation for those who received help and those who did not. Lastly, investors may consider using randomised control trials to assign some with help and some without.
Another challenge, though, is that there isn't a widely recognized standardized measurement for impacts. However, that is not to say we should hold back growth and effectiveness of impact investing. Instead, he suggested we should work towards an implementable approach of social metrics together.
"Impact investing funds should articulate how their investments are creating impact rather than just providing a market-based input to a company that is creating impact," said Prof. Gertner.
Impact Investment in Hong Kong
Hong Kong, given its status as an international financial centre, has not been actively involved in impact investment. There is a lot of room for improvement.
According to Prof. Kevin Au, Associate Professor of the Department of Management at CUHK Business School, the social enterprise sector in the city already emerged in early 2000s and in 2014, about 80 percent of the social enterprises were operated by NGOs. In the past 10 years, the number of social enterprises have doubled in the city.
"Based on my experience, I believe it is now the right moment to develop impact investment in Hong Kong," Prof. Au commented.
From his observations of the recent changes in social enterprise industry in Hong Kong, he has seen the scope of social enterprises being expanded from relieving unemployment or poverty to social exclusion, social technology and the environment. He also noted a major shift in public support and of local social enterprises that are prepared to expand outside of Hong Kong.
"Hong Kong is a developed city. There aren't that many obvious social issues, like food or water, for these social ventures to contribute. So our social innovation scope can be much broader," said Prof. Au.
Currently, social enterprises can seek funding from multiple channels, including the government grants. For example, the Social Innovation & Enterprise Development Fund (SIE Fund) aiming at promoting social innovation in Hong Kong can provide funds up to millions of Hong Kong dollars. As of June 2018, the Fund has funded 123 ventures, in which 80 are prototype-level, 31 are start-ups and 12 are scaling up ventures. The majority of the ventures are focused in education and learning as well as healthcare.
"We need coordination between all stakeholders – the social enterprises, the investors, the government and also universities for impact investment to succeed." – Prof. Kevin Au
Although the numbers are looking promising in Hong Kong, it is challenging to perfect an ecosystem to continuously develop impact investment in the city.
"In order to build an ecosystem, you need players. These players have to think and act together. They have to believe in the same goal because they are all depending on each other," Prof. Au said.
And the missing part, according to him, is coordination with the right kind of social network.
"We need coordination between all stakeholders – the social enterprises, the investors, the government and also universities for impact investment to succeed," he added. "Without such coordinating efforts, even though all the players have the best intention and tried their best, they may not know what each other is doing and would end up in frustration."
For those who are interested in venturing into impact investment, Prof. Au said they should first ask themselves if they possess the following necessary qualities.
"Social enterprises must have passion towards making impact and doing good. They must understand and embrace hybrid values and mentality. Also, they must be willing and able to work with the underprivileged," he concluded.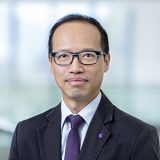 Au, Kevin Yuk-fai(區玉輝)
Associate Professor
Director, Centre for Entrepreneurship
Director, Centre for Family Business