RFID Technology Streamlines Production Schedule
A CUHK-led project reveals how RFID-enabled supply chain visibility technology can help manufacturers better predict and streamline their production lead time
By Louisa Wah Hansen
How can manufacturing companies better predict their production lead time? Radio Frequency Identification technology (RFID) technology is a smart solution to identify and eliminate unnecessary mistakes so that logistical decisions can become more precise.
Besides using inventory management systems backed by a sound management strategy, manufacturers can now turn to RFID to shorten their products' lead time to market—the length of time from a product's conception to its availability for sale.
At the Asian Institute of Supply Chains and Logistics at CUHK Business School, a project involving the use of RFID technology has successfully helped a garment company identify "glitches" in its supply chain so that it would be able to make better decisions on its production schedule and shorten its production lead time.
The project was led by the Director of the Institute, Prof. Waiman Cheung, who is also chair of the Department of Decision Sciences & Managerial Economics at the school. "With the help of Li & Fung, we were able to line up a complete end-to-end garment supply chain," says Prof. Cheung.
He describes the process of how RFID tagging was applied to the complete supply chain: As soon as the raw material arrived in Hong Kong from Italy, it was tagged with RFID tags. After inspections, the material was shipped to a factory in Shenzhen, where it was cut and turned into parts such as sleeves, front pieces, back pieces and other components.
The components were then shipped to another factory in Hong Kong, where they were assembled into a finished product. The finished product was again shipped back to the factory in Shenzhen for quality control, final ironing and packaging, which are more labor intensive processes. Finally, the finished products were shipped to a distribution center in Hong Kong. From there, the product was shipped to the retail shops.
"This is the complete supply chain, and along the chain there was item-level tagging," says Prof. Cheung. This means that every single component and every piece of finished garment was tagged and could be easily traced.
What was the result of this experiment?
"The brand owner thought the lead time from order to finished product to the shop would be 60 days, but with this RFID-enabled supply chain visibility (SCV), we were able tell them the lead time was often much longer," says Prof. Cheung.
Prof. Cheung said that the factory used to kick off a production schedule without knowing if all the components were in place. Sometimes, only in the middle of a production, it would find out a certain component was missing. "Then they would have to pack everything back [and restart the process] because something was missing," says Prof. Cheung. "But now, as the use of RFID can help them track everything, they won't start the production until they know they have all the components from the start. They won't make this kind of mistakes anymore."
In the long run, the implementation of this RFID-enabled SCV technology will save time and reduce unnecessary outlay of resources spent on recovering from mistakes.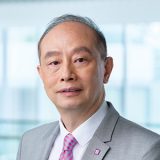 Cheung, Waiman(張惠民)
Professor
Associate Dean (Graduate Studies)
Co-Executive Director, The Asia-Pacific Institute of Business
Director, Asian Institute of Supply Chains and Logistics
Director, Centre of Cyber Logistics
Director of Studies in Graduate Studies in Business
Head, Graduate Division of Business Administration