Why China's Economy Slumped Amid COVID-19
CUHK expert examines the factors that drove China's historic GDP slump in the first quarter of 2020
By Raymond Ma, Managing Editor, China Business Knowledge @ CUHK
A slowdown in China's economic expansion has been an event long predicted by many, but in the end it was a virus, rather than trade wars or speculative bubbles, that put a (for now temporary) halt on the country's decades of blistering growth.
In the first quarter of 2020, the country's economy shrank by a historic 6.8 percent, marking the worst performance since 1992 when official statistics were first released. China's National Bureau of Statistics also announced that during the quarter, industrial production fell by 8.4 percent, and by 1.1 percent in March.
Jing Wu, Assistant Professor at CUHK Business School's Department of Decision Sciences and Managerial Economics, says it isn't surprising that the pandemic has so far led to a bigger contraction in the country's economic growth than during SARS, which only slowed GDP growth in 2003 by 0.5 percent.
"If the rest of the world is in trouble, conditions would be difficult for China as well." – Prof. Jing Wu
"COVID-19 is far more contagious than SARS and causes greater damage to the economy. It is still a bit unpredictable when the economy will bottom and when it will fully start the recovery process," he says, adding that the sooner the virus is contained around the world, the sooner demand can recover.
The situation in other parts of the world remain challenging, with the U.S. having the highest number of confirmed cases. The U.S. economy is projected to contract in the second and third quarters. Europe faces a difficult time ahead with the highest number of cases based on population. Uncertainties also linger over India and other developing economies, and whether their medical systems have the capacity to conduct adequate testing.
"Compared to the SARS breakout in 2003, we are linked much closer with global supply chains. If the rest of the world is in trouble, conditions would be difficult for China as well," Prof. Wu says.
In 2019, about 20 percent of Chinese GDP was export-related, so foreign demand will have a significant effect on growth, he says. Based on his own analysis of U.S. Customs data, he notes that Chinese exports have already fallen year-on-year since mid-February, as shown in the chart below.
Finally, he notes that while China has rolled out new measures to support its economy during the pandemic, including an additional central bank credit line of 1 trillion yuan to small lenders, this new round of stimulus is expected to be applied differently than during the Global Financial Crisis of 2008/09.
"While China's 2008 stimulus kept the economy growing, it came at a high price that now constrains the options of the government's economic planners. We have a higher debt to GDP than in 2008," he says, adding that another way to look at the Global Financial Crisis stimulus is that it helped to construct high quality but relatively basic infrastructure like roads, bridges, and trains – all of which have now been sufficiently built up.
"This stimulus in 2020 will likely be more targeted towards areas that will help our country's transition to a high-tech and service-driven economy," he adds. "It's smaller in scale but it can be more efficient. China will likely use it to invest in means to make the economy more high-tech and sustainable, such as in data centres, 5G, and new energy vehicles."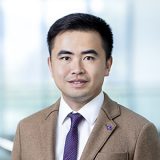 Wu, Jing(吳靖)
Associate Professor
Associate Director, Master of Science Programme in Business Analytics
Director, Institute Development Office, Asian Institute of Supply Chains and Logistics